October 25, 2011 - 2:18 PM
BACK by POPULAR DEMAND
DUELING PIANO'S
ENCORE PERFORMANCE
Two guys, two pianos, and unlimited laughs
Deuces Wild! Dueling Pianos defies all the expectations and experiences in a dueling piano show. Dave & Ted take you on a variety class act adventure, where the audience paves the way to a wild and zany performance. Back by popular demand, the show dares to go where you take it with comedy, music, and a whole lot of improv. Whether twenty-five or eighty-five, you will be guaranteed to be on your feet and part of the action.
HCMH Foundation will be holding it's Annual Founder's Event on Saturday, January 21, 2012 at the Humboldt County Events Center.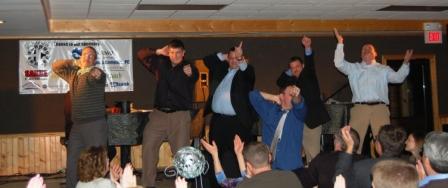 We heard many postive comments on how much fun last year's Founder's Event was.
This year Foundation is supporting our Ambulance service. The Ambulance Department has requested funding to purchase two - Lifepack 12 Defibrillator/Monitors for a total cost of $28,000. The Lifepack 12 is a multi-parameter monitoring system that detects heart rhythm which can then be directly sent to Iowa Heart Center. The cardiologist will read the information and begin assisting with the care plan at the scene. We know with a cardiac event, time is of the essence and the sooner we begin treatment, the more lives we can save.
The HCMH Emergency Management Team (EMT) has a dedicated staff of 30 volunteers on call 24/7responding to over 650 calls per year with an average response time of 8 minutes. HCMH EMT's also utilize an Urgent Response Program. In the event of a cardiac attack, trauma or unresponsive individual, our EMT's arrive at the scene in less than 4 minutes from the initial 911 call.
We never know when a loved one will need emergency care. The Foundation is requesting a minimum of $150 to join the Founder's Club. With your Founder's Club membership, you will receive an invitation for 2 to the 9th Annual Founder's Event. This is our way of thanking you for your support, along with an opportunity to enjoy the fellowship of others who recognize the need to support our Hospital and its ambulance service.
For more information please contact Gary Moritz, 332-4200 ext.126
or email @ garym@humboldthospital.org